THE EFFECT OF ANXIETY ON OUR VOICE
Many studies suggest that our lizard brain makes us react to perceived or real danger in a similar way. Whenever we are in a situation in which we feel unsafe, our lizard brain reacts as if we were in the presence of a real threat. Something that it was very useful many years ago when humans were indeed surrounded by real threats. 
If you are in a perceived or real danger situation (remember that the brain doesn't understand the difference between them both), your body will do all it can to protect you and hide you. Basically what is called fight, flight or freeze response.
In any of those scenarios, your body will try to hide your voice. It does make sense if you are indeed in real danger. But it does become a problem if you are trying to sing or to speak in public.
You will find yourself sending your brain two opposite signals: express your voice and hide your voice. No wonder why singing is so hard these days!!
Because nowadays we are left with the risk of rejection. People might reject you for what you say. People might judge your singing and compare you with others. People might not like you. And we have the internal need for belonging. Risking that is risking our survival (or so our brain thinks)!
Not to mention that too many people love criticizing and judging the voices of others. Laughing at unsuccessful contestants at singing reality shows, family members asking you to shut up, and people deciding that a singer has a "better voice" than another. It is a bit like saying that a person has a "better body" than another. How harmful words can be!
We live in a society that leaves us alone more and more. Singing used to be a community event. Singing used to be fun and safe for everyone.
But now, singing is associated with a scary situation. And even if our survival is not threatened, our brain will perceive that and react to it.
Even if you try hard to let your voice out it is not going to work. If your brain perceives danger then you will find a voice that doesn't want to go out of a voice that yells and reacts. In either case, expression is blocked.
Even more, if your brain perceives danger, your breathing will become shallow and short (again, to protect you). Not good for singing! Our breathing is the fuel of our voice.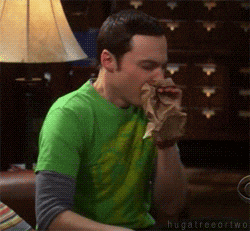 That explains why so many people insist on and complain about the fact that they can sing way better when they are by themselves at home than when they are in front of anyone else! Surviving performance anxiety for singers is necessary to be able to enjoy your music beyond yourself, to take part of a community activity – which is where the role of singing finds its place.